Welcome to the V

irginia

C

hess

F

ederation
Our 2017-2018 VCF Cup Champion is NM Jason Liang.

Click Here to see the Individual and Class results.
Our State Champion for 2018 is IM Praveen Balakrishnan



Our 2018 State Amateur Champion is Joseph Cagle, and our 2018 Under-1200 Champion is Luke Grogan
Updated Dec 1, 2018 ... Click here to see the VCF's Policy on Communication, Calculation and Electronic Devices
US Chess - Report of actions at the 2018 Annual Meeting
---
Help the VCF fulfill our 501(c)3 Non-profit Mission!!



Have a question or comment? Click this button ...


============== Chess News for Virginians ... ==============
Aasa Dommalapati, daughter of NTD Anand Dommalapati,
captures GOLD in the U14 Section at the 2018 North American Youth!
If Aasa's FIDE rating tops 1900, she will become a WFM!!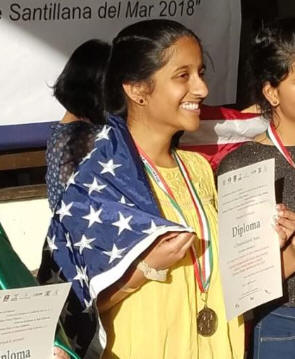 ============== Upcoming Tournaments ==============
Registration is OPEN!! ... 2019 Virginia Scholastic & College Championships
Friday, Saturday & Sunday, March 8-10, 2019 at Monticello HS in Charlottesville, VA
NEW!! Simultaneous Exhibition on Saturday March 9 with 3-time VA State Champion FM Macon Shibut!


Coming Soon ... ... 2019 (52nd) Virginia Open
Friday, Saturday & Sunday, March 22-24, 2019 -- $4,000 GUARANTEED Prize Fund!
at the Washington-Dulles Marriott in Sterling, VA
============== Recently Completed Events ==============
26th David Zofchak Memorial ... played Nov 17-18 2018
At Lake Wright Sleep Inn, Norfolk, VA


2018 Northern Virginia Open ... played Nov 10-11 2018
Washington Dulles Airport Marriott, Sterling, VA


82nd Virginia Closed ... played Sept 1-3, 2018
IM Praveen Balakrishnan repeats as State Champion!!


----------- For your 2018-19 Planning -------------
When
Event Name
Tournament Location
March 9-10, 2019
2019 Virginia Scholastic & College Championships
Charlottesville, VA, Monticello High School
March 22-24, 2019
Virginia Open
Washington-Dulles Marriott Hotel, Sterling, VA (near the airport)
Aug 3-4, 2019
State Games of America (2-day Main Tournament and 1-day Scholastic)
Lynchburg, VA at Liberty University
Aug 31 - Sept 2, 2019
VA Closed State Championships
Glen Allen, VA, Hilton Garden Inn Innsbruck
October 2019 (TBD)
New Tournament (to be named) in Fredericksburg (

replaces Emporia

)
Location TBD